Canford helps Green-GO growth at MediaCity's GreenHouse
November 2019
Manchester, UK – The aptly-named 'GreenHouse' at MediaCityUK was the chosen setting for a Green-GO training workshop presented by audio, video and broadcast solutions specialist, Canford. As the UK and Ireland's distributor for the cost-effective, scalable, digital comms system since 2016, Canford has seen demand rise sharply in festivals, live events and broadcast applications.
"The Canford team regularly delivers bespoke, on-site product demonstrations, both for new clients taking their first look at Green-GO, and for those who are already regular users but want to further explore the system's more advanced possibilities," explained Erika Dobie, BDM and Green-GO Commercial Manager at Canford. "Now, with Green-GO experiencing record-breaking demand, the time was right to host the very first UK Workshop event."
Held on 5 November, the packed workshop session attracted rental partners, consultants, system designers and operators to share their Green-GO experiences and ideas. It also gave them the opportunity to discuss solutions with product experts from Canford, and from Green-GO itself, whose Silvio Cibien and Henk-Jan Blok were on hand to support the event.
As well as giving new clients an overview of the Green-GO system's basic advantages, the workshop also allowed regular users to take a deeper look at its more advanced features, including duplex interfacing to legacy analogue systems, GPIO switching, communicating over walkie-talkies, or linking to external comms systems around the globe with the Green-GO GGO-BRIDGEX interface.
One of those attending, Alex Hadjigeorgiou of fac365, said, "As a long-term Green-GO user, providing comms systems to multiple markets including Broadcast, Corporate, Live Sports and Live Music Touring, I thought the event was very useful . . . We are certainly looking to add to our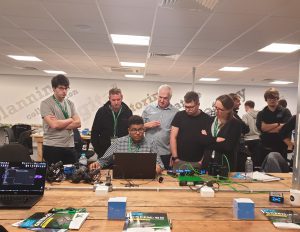 inventory on the back of really understanding how the Green-GO Bridge interfaces can be deployed. It was certainly an afternoon well invested."
"The event has proven to be extremely successful, attracting visitors from far and wide and giving them really valuable insights into the benefits of the Green-GO system," said Erika Dobie. "I am already being asked about the next Green-GO Workshop! Luckily, it's already at the planning stage and we'll be announcing the dates and location soon."
Commenting on behalf of Green-GO, Silvio Cibien said, "Congratulations to the Canford team for presenting such a useful and well-attended event, in these inspiring surroundings. It was a pleasure to be able to join them, to meet Green-GO users from all these various sectors and to hear about their successes with the technology. We look forward to the next one!"